Sirius Medical proudly announces the first clinical results and global commercial implants of its Sirius Pintuition soft-tissue localization system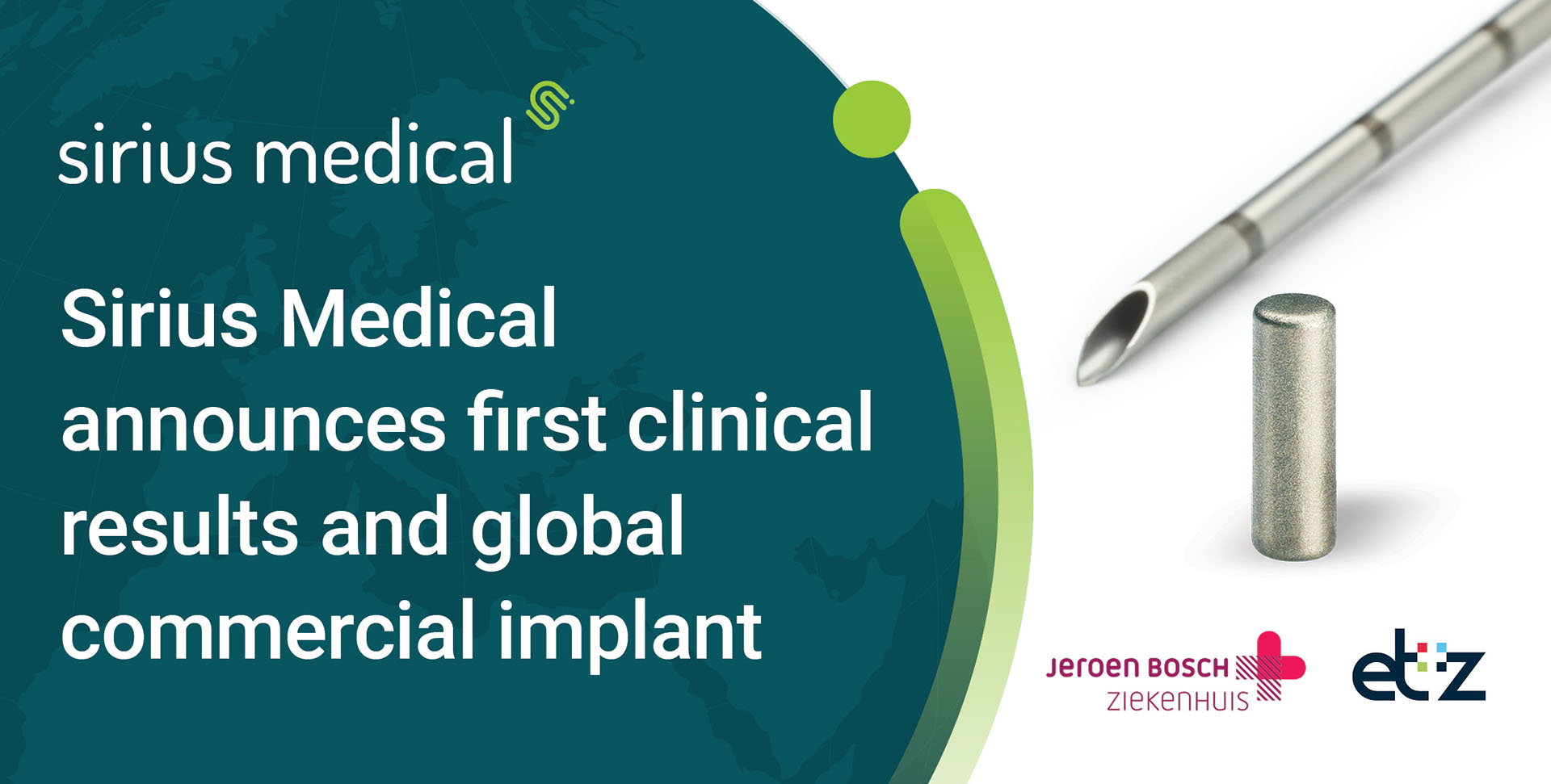 Sirius Medical is proud to announce the first clinical results and global commercial implants of the Sirius Pintuition system. The first clinical safety and performance study shows that Sirius Pintuition System is safe and performs as intended for breast cancer patients. The results will be presented at the European Society of Surgical Oncology virtual conference (ESSO40) on October 23. The study was led by M.D. Maud Bessems, surgical oncologist and principal investigator at the Jeroen Bosch Breast Centre (JBZ) in 's Hertogenbosch, the Netherlands. The first global commercial implants of the Sirius Pintuition system took place in the Elisabeth-TweeSteden (ETZ) hospital in Tilburg, the Netherlands. The ETZ is one of 26 top clinics in the Netherlands. It has 4,000 full-time employees and is one of the largest non-academic training hospitals in the Netherlands.
Surgical oncology and tumor localization
With the rapid improvement of breast cancer diagnostics over the past decades, surgeons are facing increasingly challenging procedures as they must localize even smaller and earlier-stage tumors. Until recently, clinics have been using metal anchor wires or radioactive seeds to guide the surgeon to the right location during surgery. The use of wires or radioactive seeds is not ideal, and physicians have been actively searching for better alternatives.
Sirius Medical now provides surgical oncologists with a highly precise, easy-to-use, and affordable solution that contributes to an improved hospital workflow. The Sirius Pintuition seed can be placed up to 180 days before the surgery to mark a target within soft tissue*. During surgery, the Sirius Pintuition Probe provides highly accurate, real-time feedback and directional guidance to the marked tissue. The probe is reusable and compatible with metal instruments that are commonly used during surgery.
*Please refer to the product instructions for use
It simply makes sense
Maud Bessems. surgeon-oncologist at the JBZ Breast Center said: "For the past few years, we have been using radioactive iodine seeds in our clinic. Its strict regulation puts an immense organizational burden on the Breast Center. Sirius Pintuition provides us with the benefits of radioactive seeds, without the hassle of radioactivity. Additionally, its real-time directional and millimeter-accurate feedback is an improvement over our standard of care."
"Until recently, we used metal anchor wires to localize small, non-palpable tumors during breast conserving surgery. This approach was far from ideal. With Sirius Pintuition we feel confident that we can provide a more patient friendly therapy whilst significantly improving the surgical procedure" says surgical oncologist Patricia Jansen of the ETZ Breast Center.
From idea to real world use in the hospital
Bram Schermers, inventor of the system and co-founder of Sirius Medical, lay the groundwork for the Sirius Pintuition System during PhD research at the Netherlands Cancer Institute.
"I was looking for a solution that could successfully replace the wire. Essentially keeping the benefits of radioactive seed localization but without the inherent limitations of using radioactivity. Magnetism was identified as an ideal solution.", says Bram Schermers. "Based on that early work, we developed Sirius Pintuition. It's incredible to see the technology that started so small, being commercially used by clinicians for the first time. I'm proud that this is now available to clinics and to cancer patients. It is truly a pivotal moment for Sirius Medical".
Hubert Martens, CEO and co-founder of Sirius Medical adds "Bringing value to clinicians and patients world-wide is the core of our mission. Our team did a great job delivering an advanced system that not only optimally supports surgeons but at the same time is a cost-efficient solution for hospitals. This supports our ambition to make our innovative solutions widely accessible around the globe."
About Sirius Medical
With its roots in the Netherlands Cancer Institute, Sirius Medical was born to make things better. The Sirius Pintuition system was developed by and for surgeons addressing a clear clinical need with a solution that simply makes sense. The Sirius Pintuition system is CE marked and is currently commercially available in Western Europe. Our mission is to improve health for cancer patients by delivering unsurpassed, yet affordable solutions that enable precise and efficient surgical removal of tumors.
Please visit www.sirius-medical.com.
Contact Sirius Medical | Benjamin Tchang | Benjamin.Tchang@sirius-medical.com