Strategic Partnership with the European Society of Surgical Oncology and Sirius Medical Will Advance Oncology Surgery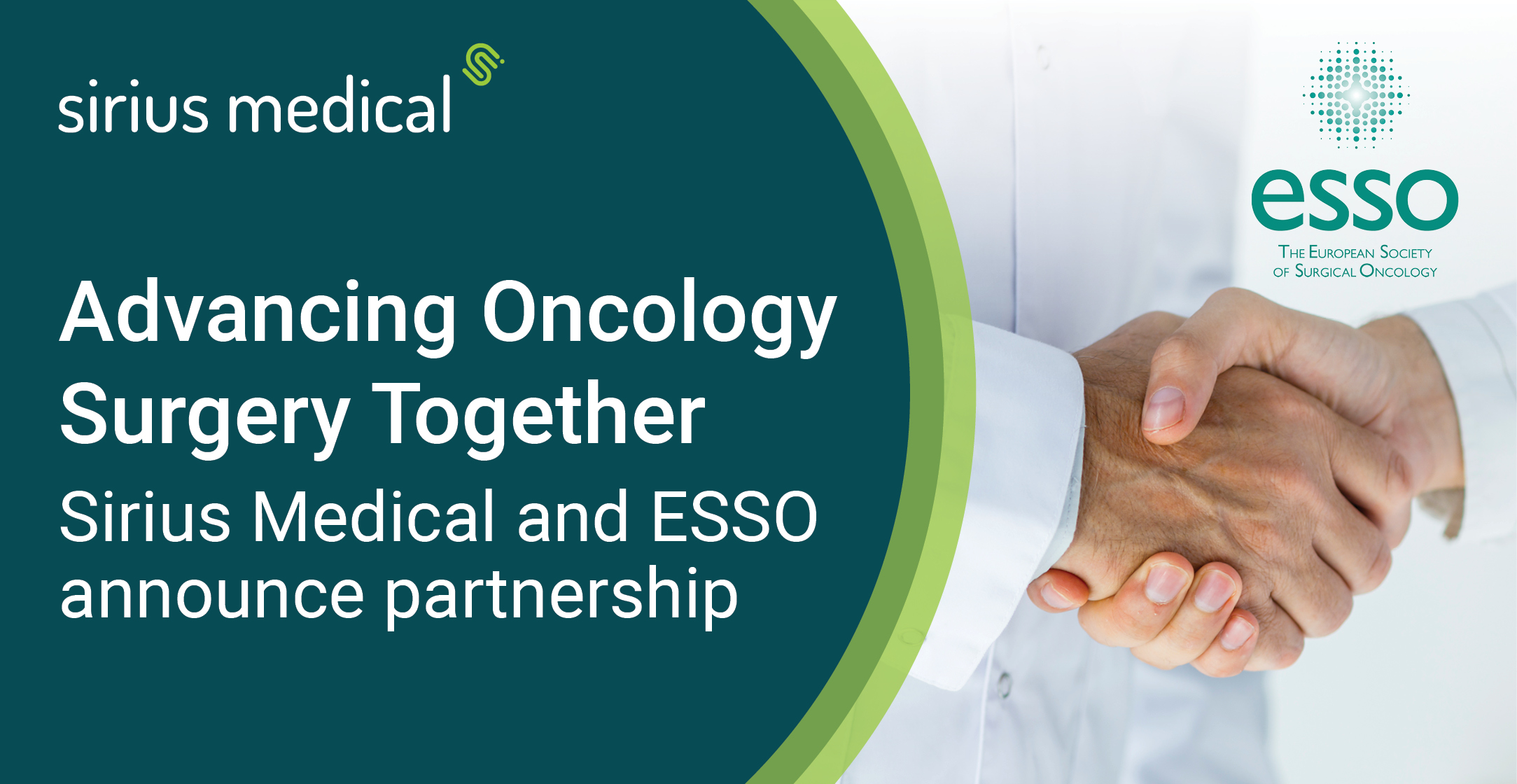 Sirius Medical, a leader in tumor navigation technology, announced today a strategic partnership with the European Society of Surgical Oncology (ESSO), a leading organization of surgical oncologist.
ESSO aims to optimize the clinical management of cancer patients through multidisciplinary collaboration, education, and training of cancer surgeons throughout Europe and promotes the development of guidelines to foster best practice in cancer surgery.
The partnership will support the surgical oncology community with a wide range of educational activities as Sirius Medical aims to contribute to the advancement of knowledge and expertise in oncology surgery and the clinical management of cancer patients.
"Clinical management of non-palpable tumors is improving rapidly. Together with ESSO we want to share our knowledge and expertise to increase the use of surgical navigation. Our partners have the expertise to lead transformative change through education," says Bram Schermers, CEO of Sirius Medical.
"We are pleased to partner with Sirius Medical to improve the education and training of cancer surgeons throughout Europe," says surgical oncologist Domenico D'Ugo, President of ESSO, Fondazione Policlinico Universitario Agostino Gemelli IRCCS, Roma, Italy. "We look forward to continue working together to educate and train more surgical oncologist on Guided Breast Cancer Surgery."
About Sirius Medical
With its roots in the Netherlands Cancer Institute, Sirius Medical is dedicated to improving care for cancer patients by delivery of unsurpassed, yet affordable solutions that enable precise and efficient removal of tumors.

Sirius Medical offers Pintuition®, powered by GPSDetect.™, a state-of-the-art navigation technology for the treatment of non-palpable breast cancer and other soft tissue tumor types is CE marked and FDA 510(k) cleared. The system is an intuitive, wire-free surgical navigation system with a unique multi-sensor probe that provides real-time directional guidance using audio and visual feedback for unmatched precision to locate tumors easily and accurately.  Pintuiton is simple, precise, and affordable.

Sirius Medical has experienced business development and surgical support teams in Western Europe and the US.
About ESSO
Founded in 1981, the European Society of Surgical Oncology (ESSO) supports its members in advancing the science and practice of surgical oncology for the benefit of cancer patients. The Society aims to achieve this through a range of activities related to education, research, adcovacy and leadership in multidisciplinary care. Today, ESSO has more than 4000 memebrs in Europe and beyond, influencing the visibility of surgical oncology in Europe with its global network of surgical professionals and organisations.
ESSO supports continued professional development by facilitating the education of both young and experienced surgical oncologists through the organisation of interactive courses, workshops, training programmes on specific tumour types and surgical techniques around Europe as well as online. Its annual congress, the biggest congress in surgical oncology in Europe, offers an effective platform for surgeons to discuss latest topics and future trends within surgical oncology community.
ESSO generates research project ideas that are prospective, high-quality and feasible and then collaborates with clinical research operators for their implementations. Through its scientific Journal, the Journal of Cancer Surgery (EJSO), ESSO aims to educate and inform about the many subspecialty disciplines of cancer surgery.
ESSO is a founding member of BRESO, which aims to promote accredited specialist breast surgical care by offering a dedicated certification programme in breast cancer surgery:
https://breastsurgeoncertification.com/