Sirius Medical Invited to Participate in GE HealthCare's One-Stop Clinic for Breast experience at the Upcoming Symposium Mammographicum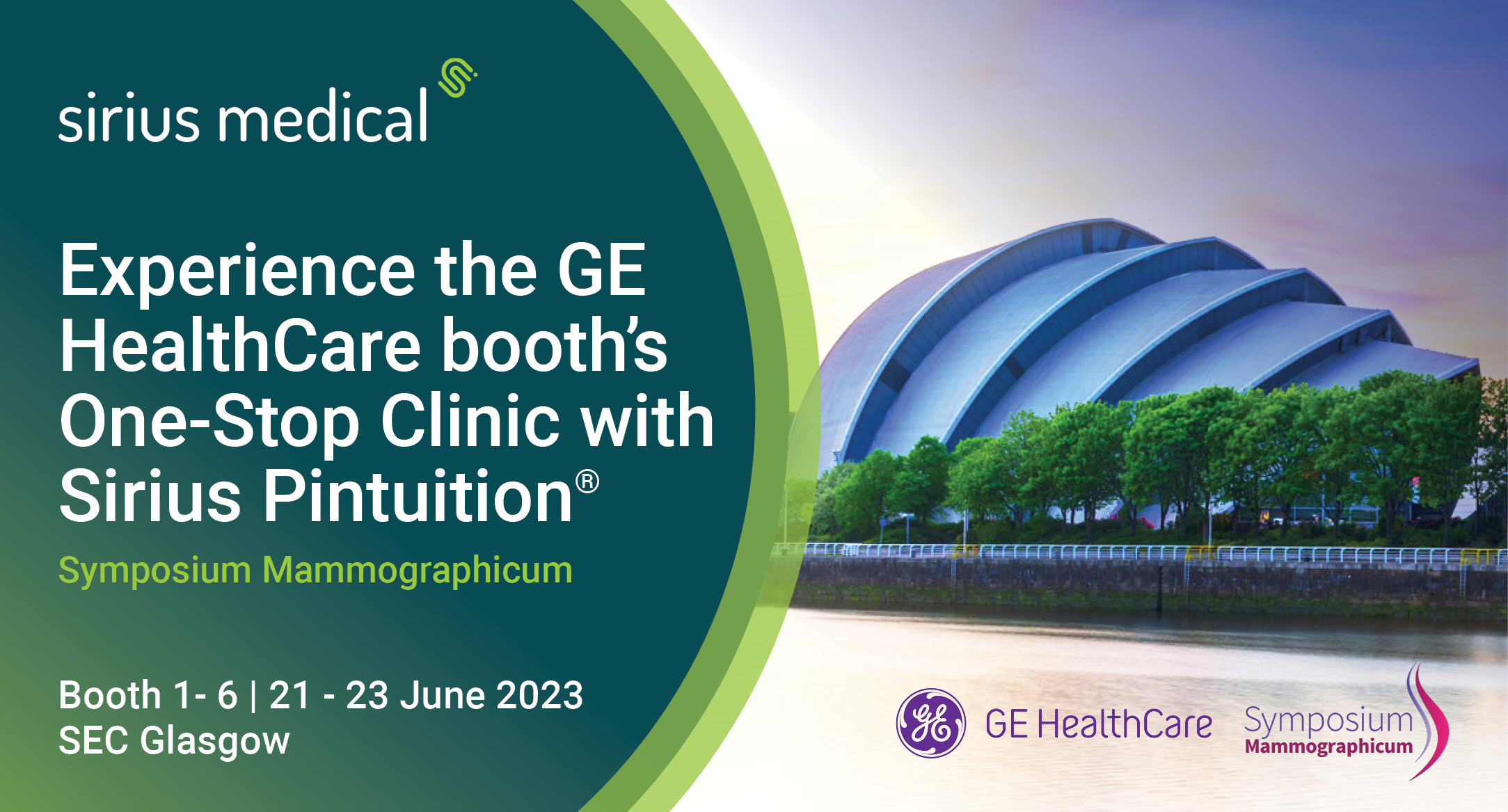 Eindhoven, June 20 2023 – Sirius Medical, a leader in value-based healthcare and surgical marker navigation, has been invited to participate in GE HealthCare's One-Stop ClinicTM for Breast experience at the upcoming Symposium Mammographicum, June 21-23 in Glasgow (UK).
The One-Stop ClinicTM is a pioneering concept that marks a paradigm shift towards the delivery of value-based care, redefining the full care pathway experience for patients facing breast cancer. It helps minimize the waiting period and stress experienced by women with suspected breast abnormalities. By shortening the time between examination, results, and treatment planning, this innovative clinic concept helps alleviate anxiety and ensures a smoother and more efficient experience for patients.
The multidisciplinary team of medical specialists, including radiologists, oncologists, oncology surgeons, pathologist/cytologists, and nurse navigators, work collaboratively to provide patients with timely consultations, assessments, diagnoses, and personalized treatment plans.
Sirius Medical will showcase Pintuition®, a groundbreaking Surgical Marker Navigation system. This system is specifically designed to locate non-palpable tumors with exceptional accuracy, allowing surgeons to precisely guide their procedures and ensure optimal outcomes. Patients benefit from enhanced diagnostic accuracy, reduced procedure times, and improved treatment planning.
"Initiatives such as the One-Stop ClinicTM bring together cutting-edge technology and compassionate care to create a brighter future for breast cancer diagnosis and treatment," states Bram Schermers, CEO, Sirius Medical. "We are honored to showcase Sirius Pintuition®."
For more information about Sirius Medical please visit https://www.sirius-medical.com/sympmammo2023
About Sirius Medical
With its roots deeply embedded in the Netherlands Cancer Institute, Sirius Medical is dedicated to improving care for cancer patients by delivery of unsurpassed, yet affordable solutions that enable precise and efficient removal of tumors. The Pintuition technology is precise, simple, affordable and both CE marked, and FDA cleared. Sirius Medical is rapidly expanding with over 10.000 procedures worldwide in over 175 centers combined with a global commercial network covering the USA, Western Europe and Australia-New Zealand.
About Symposium Mammographicum
Symposium Mammographicum aims to play a leading national and international role in advancing technological and clinical sciences related to breast imaging, thereby improving patient care. These aims will be achieved through disseminating knowledge, sharing and promoting best practice, fostering debate and collaboration, encouraging and supporting research, and by widening participation in such activities.
Media Contact:
Benjamin Tchang - Corporate contact
benjamin.tchang@sirius-medical.com
+31 857 732 727 (The Netherlands)