Sirius Medical collaborates with GE HealthCare to showcase the Pintuition® and CEM combination for an efficient and accurate breast cancer care pathway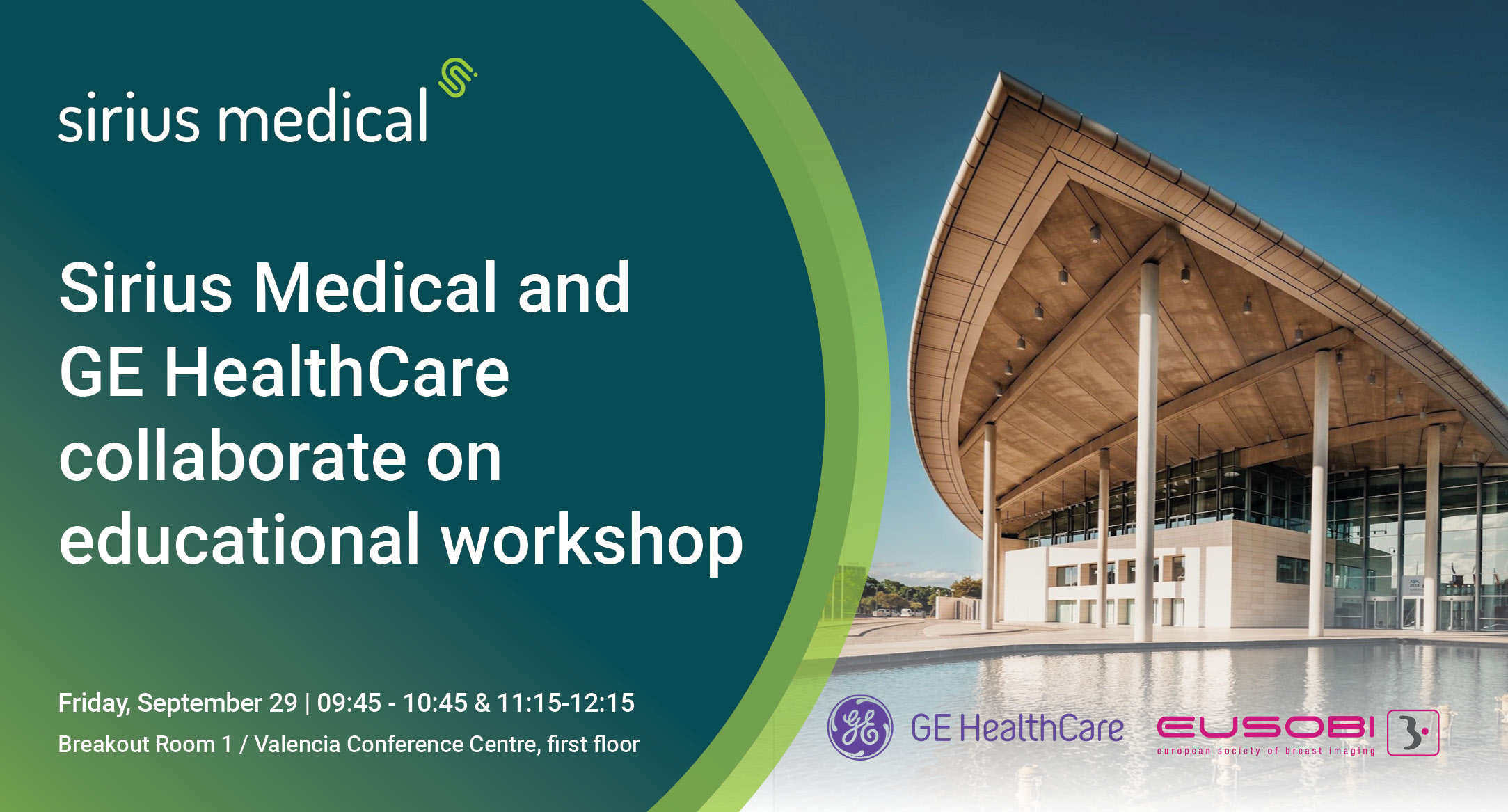 Eindhoven, Netherlands - September 26, 2023 - Sirius Medical a global leader in Value-Based Healthcare and Surgical Marker Navigation, announced that GE HealthCare will showcase Pintuition at the upcoming Annual European Society of Breast Imaging (EUSOBI) Conference 2023. The event will take place in Valencia, Spain, from September 28 to 30, 2023.
Sirius Pintuition® will join in a workshop GE HealthCare will host focused on Contrast Enhanced Mammography (CEM) in combination with Sirius Pintuition titled: 'Improving biopsy accuracy & workflow: CEM guided biopsy for enhancing-only lesions & DCIS and non-wire probe-guided localization systems'.
Sirius Medical has previously participated in The One-Stop Clinic™, a pioneering concept introduced by GE HealthCare. The One-Stop Clinic approach marks a paradigm shift towards the delivery of value-based care, redefining the full care pathway experience for patients facing breast cancer.
The educational collaboration between Sirius Medical and GE HealthCare demonstrates a shared commitment towards the delivery of value-based healthcare. The incorporation of Sirius Pintuition® and CEM will help with improvement of the patient workflow to support and extend sustainable access to breast cancer care.

"We are excited to collaborate with GE HealthCare and to improve the patient workflow with Sirius Pintuition and CEM," said Bram Schermers, CEO of Sirius Medical. "This opportunity embodies our shared dedication to improving patient care and sustainable access through the use of innovativemedical technology."
"Sirius Medical's innovative surgical oncology approaches aligns perfectly with our vision at GE HealthCare," said Karima Santi, EMEA Product Marketing Leader Mammography, GE HealthCare. "Together, we aim to enhance the full delivery of value-based care and optimize educational and interactive experiences that will benefit medical professionals and ultimately enhance patient outcomes."
For more information about GE HealthCare at EUSOBI please visit:

About Sirius Medical:
With its roots deeply embedded in the Netherlands Cancer Institute, Sirius Medical is dedicated to improving care for cancer patients by delivery of unsurpassed, yet affordable solutions that enable precise and efficient removal of tumors. The Pintuition technology is precise, simple, affordable and both CE marked, and FDA cleared. Sirius Medical is rapidly expanding with over 14.000 procedures worldwide in over 175 centers combined with a global commercial network covering the USA, Western Europe and Australasia.
Media Contact:

Benjamin Tchang - Corporate contact
benjamin.tchang@sirius-medical.com
+31 857 732 727 (The Netherlands)