Sirius Medical Announces Clinical Advisory Board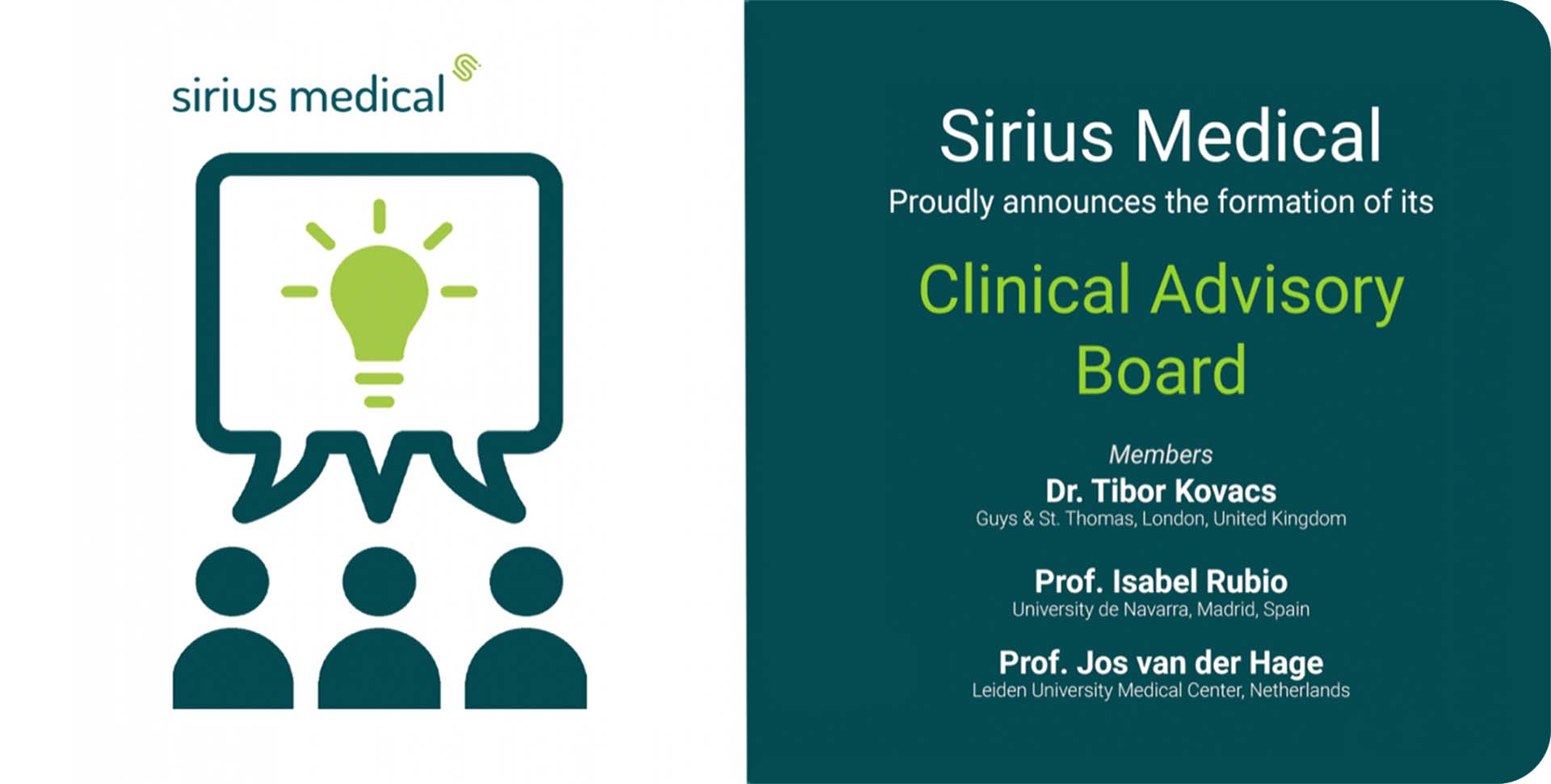 Sirius Medical Systems announced today that Dr. Tibor Kovacs, Prof. Isabel Rubio and Prof. Jos van der Hage, will advise the company in the clinical development of marker-based tumor localization. Sirius Medical is developing Sirius Pintuition as an affordable, non-radioactive, point source localization technology that enables accurate surgical guidance. Sirius Medical aims to develop clinical evidence to bring Sirius Pintuition towards standard of care.
Hubert Martens, CEO of Sirius Medical states "Wire-guided localization (WGL) has been the standard for surgical localization ever since its introduction in the 1970s. However, the use of wires is far from ideal. In close collaboration with surgeons we have developed a novel marker-based localization technology. Now, in close collaboration with clinical leaders in the field of surgical oncology we will focus on the development of high-quality clinical evidence that supports our mission to deliver unsurpassed, yet affordable solution to improve healthcare for cancer patients."
"It is a pleasure to advise an early-stage company driven to improve precise and efficient surgical removal of tumors" says Prof. Isabel Rubio, director of Breast Surgery Unit of the University of Navarra in Madrid. Prof. Isabel Rubio is a member of the Board of the European Society of Surgical Oncology (ESSO) and EUSOMA. She is member of the editorial board of scientific journals such as the Journal of Surgical Oncology (JSO), The Breast, and European Journal of Surgery (EJSO).
Dr. Tibor Kovacs of Guys and St Thomas in London added: "There is evolving evidence on the effectiveness of marker-based localization for the surgical removal of breast tumors. This novel method is radiologist and surgeon-friendly, has the potential of increasing the precision of surgery and gives perfect comfort to patients as compared with the traditional method." Dr. Kovacs is President of ESSO and founder and chair of the ESSO Advanced Oncoplastic Surgery Course.
Prof. Jos van der Hage of the Leiden University Medical Center (LUMC) added: "Beyond breast tumors this technology can play a pivotal role in the area of lymph node and recurrent tumor localization (for instance soft tissue sarcomas). I find it important to develop pragmatic evidence in this field. I am happy to advise this young company and work again with one of its founders Bram Schermers." Professor van der Hage is a surgical Oncologist with special interest in breast cancer, soft tissue sarcomas / GIST, and melanoma. He holds a chair in Surgical Education. He is also active in several national and international scientific and educational societies. and became a member the ESSO Education Committee in 2015.
Breast cancer localization
Breast cancer diagnostics have rapidly improved over the past decades and therefore surgeons are facing increasingly challenging procedures as they must locate ever smaller and earlier-stage tumors. Until now, patient unfriendly metal anchor wires were used as surgical localization devices to guide the surgeon.
Surgeons demand change
Now, more than 40 years after the introduction of wire-guided localization, it's time for a change. In recent years, new devices have been developed that overcome many of the disadvantages of wires. Of these, radioactive seed localization (RSL) is the most prominent newcomer. However, the use of tiny radioactive sources and its strict chain of custody requirements introduce radiation safety concerns, resulting in limited global adoption.
Sirius Pintuition: the next generation that simply makes sense
Sirius Pintuition is the next generation localization system. A rice-grain sized Pintuition Seed is implanted into the tumor using image guidance days to weeks prior to surgery. During surgery, the Pintuition Detector provides directional and real time millimeter-accurate guidance towards the Pintuition Seed. The Pintuition Detector is reusable and compatible with metal surgical instruments. Sirius Pintuition aims to provide all the benefits of radioactive seeds without any of its hassle.
About Sirius Medical
With its roots embedded in the Netherlands Cancer Institute, innovative med-tech start-up Sirius Medical was born to make things better. The Sirius Pintuition System was developed by and for surgeons addressing a clear clinical need with a solution that simply makes sense. Our mission is to improve health for cancer patients by delivering unsurpassed, yet affordable solutions that enable precise and efficient surgical removal of tumors. For more information please visit www.sirius-medical.com
For further information please contact Jan Willem Beijer, Marketing and Sales, Sirius Medical.
email: jan.willem.beijer@sirius-medical.com