Sirius Medical proudly announces implant with Sirius Pintuition in Royal Marsden, UK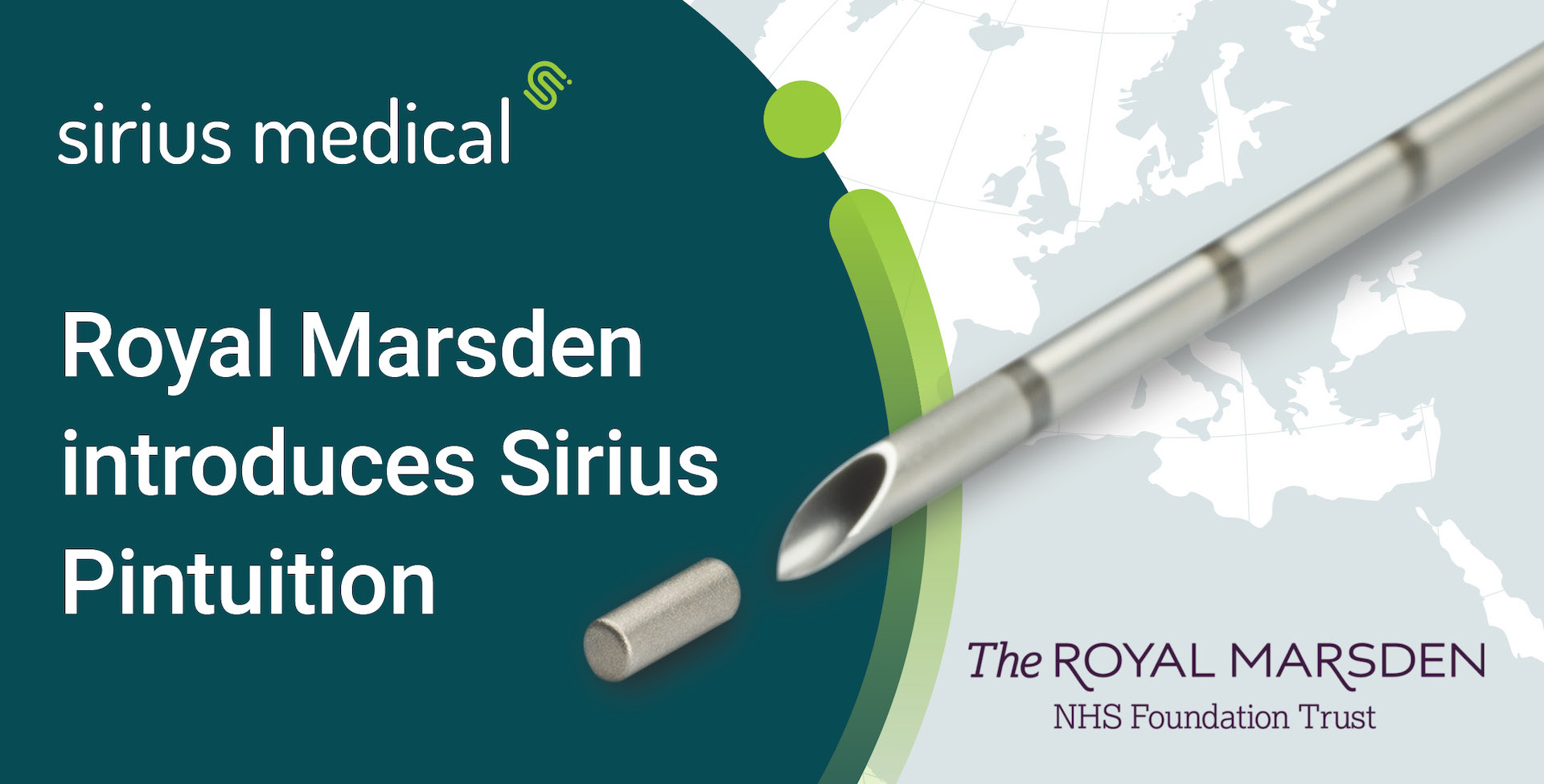 Sirius Medical, a start-up company developing Sirius Pintuition as an affordable, non-radioactive, point source localization technology that enables accurate surgical guidance in oncology is proud to announce the first international implants with the Sirius Pintuition in The Royal Marsden NHS Foundation Trust, London (UK).
The Royal Marsden, together with its academic partner, The Institute of Cancer Research (ICR), is the largest and most comprehensive cancer centre in Europe seeing and treating over 59,000 NHS and private patients every year. It is a centre of excellence with an international reputation for ground-breaking research and pioneering the very latest in cancer treatments and technologies. The Royal Marsden's breast unit is one of the largest of its type in the UK, with over 700 breast cancer surgeries performed every year.
The implants were performed by Edward St John, consultant breast surgeon and chairman at iBRA-NET Innovation group: "Sirius Pintuition is an exciting innovation in breast cancer surgery and, compared with traditional wire techniques, it's far more patient-friendly and offers hospitals more flexibility. We are evaluating it to discover if it offers a more precise and efficient route to locating tumours during lumpectomies compared with previous similar technologies".
"Preoperative seed localisation allows us also to optimize the workflow between the radiology and surgical department, which creates more flexibility in clinic and theatre scheduling", says Mrs Katherine Krupa, consultant breast surgeon at The Royal Marsden. "We are excited to work with Sirius Pintuition as a new partner in this field".
Bram Schermers, co-founder and inventor of Sirius Pintuition technology: "We are very proud to collaborate with the Royal Marsden Hospital. This first international launch is a pivotal moment for us, and we are happy that clinicians show confidence in our product. Sirius Pintuition is an intuitive and easy to use system that creates value for surgeons, hospitals and their patients".
Do you want to read the Daily Mail article about the implants with Sirius Pintuition? Click here
Sirius Pintuition System
Sirius Pintuition provides surgeons an intuitive and easy-to-use system to locate early-stage tumors. The Pintuition Seed can be placed in the tumor area 180 days prior to surgery. During surgery, the Sirius Pintuition Probe provides highly accurate, real-time feedback and directional guidance to the marked tissue. The probe is reusable and can be used with metal instruments that are commonly used during surgery. Compared to conventional methods, Sirius Pintuition provides value by lowering the total cost of care while adding benefits for the surgeons and patients.

About Sirius Medical
With its roots in the Netherlands Cancer Institute, Sirius Medical was born to make things better. The Sirius Pintuition system was developed by and for surgeons addressing a clear clinical need with a solution that simply makes sense. The Sirius Pintuition system is currently commercially available in Europe. Our mission is to improve health for cancer patients by delivering unsurpassed, yet affordable solutions that enable precise and efficient surgical removal of tumors.